I'm Miriam Rauthing, Bachelor of Applied Systems Science.
Looking for a job...Download an open application Praktikplatsansökan


I'm a complete nerd when it comes to programming, JAVA is fascinating (here a program I made completely on my own), COBOL is the most fun you can have on a Friday night :-), constructing databases is also satisfactory exercise for the brain, LOGIC being the key word.

I'm quite happy to say I was asked to take care of the site for the filmfestival of 2001!

I'm now niched into programming for dynamic internet applications (constantly learning more ASP) Constructing SQL data bases works like a fluent language, and transferring other data into suitable format...
And this was before I got the job being in charge of Laboratorium, the virtual and physical place...

Besides the film festival, my freshest creation is welcome.to/aktivitetsnatet, a club for meaningful activities for singles.

Recently I wrote systems documentation at Accson. Have also done hours being assistant/salesperson at Testhouse. The latter gave interesting contacts with people in the field of usability.

From 010220 I have had hours working as a chaffeur for a map constructor, GPS/GIS application for Tele Atlas (paycheck from Bosch). On the side I've written in names of a lot of streets, some of which I had to draw myself :) (tool: TAMapper v.05.06) It is truly fascinating to digitalize maps, think of all the areas it can be applied on!

I did ASP-coding with connections to SQL-databases at Empir AB 000626-000721.

I have done some unpaid consulting with sites like Elmwood, Wigens, finding bugs, getting it to work in Netscape a so forth.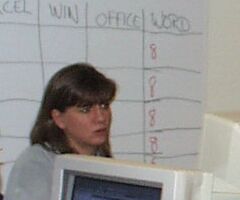 No, I'm not sitting by the computer all the time, october 2000 I took part in arranging a film festival.
I sail regattas, check out the trophies! The guys I sail with blamed everything on the woman steering 1999, especially as I got distracted by men on other boats and forgot the telltails :)
I worked in december 1999 at Testhouse with a educational cd-rom for Office 2000, it was great to get paid for remarking on others mistakes :)
---
This site is under constant reconstruction, recently moved from Geocities.
Here I currently use Word Pad, tried out Dreamweaver contructing the site for the film festival. I've checked it to look good with resolutions from 600x800 and up (acceptable in 640x480) MSIE and Netscape. Friends with Macs havent complained either :).
MEMORIZE go.to/rauthing and/or connect.to/mira -if you didn't find me that way already...